Empty Can Palletizer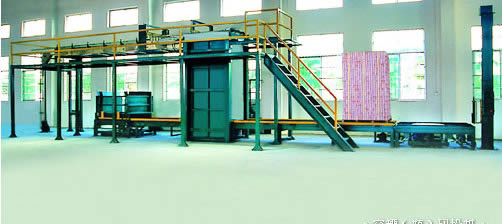 Our empty can palletizer is mainly used to stack tinplate cans and aluminum cans with various sizes. It automatically collects and arranges metal cans via a network chain conveyor. Our palletizing machine has a unique sorting device, which sorts empty cans according to relevant sizes for stacking.
Empty cans are stacked by this can making equipment in layers, starting at the bottom and moving to the top. The stacked metal cans are then transferred to the automatic film wrapper winding machine via the conveyor. The entire palletizing process includes automatic loading, feeding, ascending, sorting, stacking, and automatic descending, unloading and automatic film wrapping.
Advantages
1. The empty can palletizer easily replaces the manual palletizing of cans, effectively saving manpower and improving production efficiency.
2. This machine utilizes a programmable computer system to improve the accuracy of the mechanical movement, facilitating operations.
3. This empty can stacker has a self-locking lifting platform. Its loading and unloading processes are automatically achieved using air cylinder lifting, which guarantees stable operation.
4. This equipment is adaptable and flexible. It can work either in a continuous operation or a single cycle operation.
Configurations
1. Automatic loading and unloading mechanisms
2. Pallet positioning device
3. Automatic sorting unit
4. Lifting platform
5. Can feeding system
6. Network chain conveyor
Technical Parameters
| | |
| --- | --- |
| Work Height | 2,400mm |
| suitable Size of Pallet | 1,100mm×1,400mmor1,000mm×1,200mm |
| Production Rate | 300-720 cans/ minute |
| Suitable Size of Object | Diameter:50mm-153mm; Height:50mm-270mm |
| Appropriate Object | All kinds of tinplate cans, glass bottle and plastic bottle |
| Dimension | Length:15,000mm(without film wrapper) ×Width:3,000mm× Height:3,900mm |
| Power Supply | 3×380V, 7KW |
| Compressed Air | 0.6mp,0.1L/min |
| Note | The PLC automatic controller, photoelectric switch, limited switch and pneumatic control device are all of famous brands from Japan, Germany and Taiwan |