Printing Machine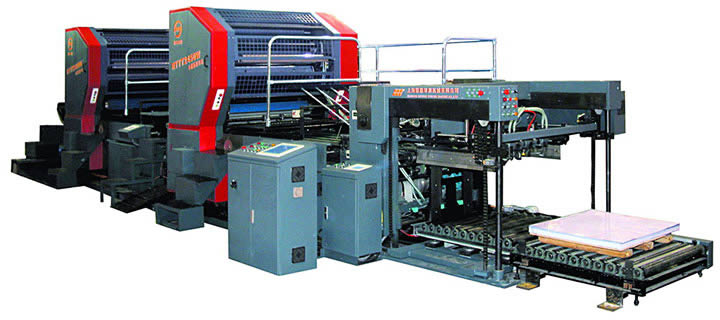 Features
1. The roller bearings on our printing machine's printing roller, rubber roller and embossing roller are all imported.
2. The rubber and embossing roller both use single eccentric clutches, and cylinder solenoid valve clutches. The inking rubber roller of our printing press uses a cylinder solenoid valve clutch.
3. The damping roller also uses a cylinder solenoid valve clutch, and the speed for the fountain roller can be adjusted separately. The adjustable speed motor is in the programmable linear control.
4. The unloading platform on our printing machine is operated by cylinder to have up and down motion.
5. We use stainless steel materials or rust-proof treatment on the fountain roller and the damping vibrator.
6. Our printing machine is made of imported original parts, and the active force is generated by shaft-free transmission. The PLC device is also configured with imported parts.
7. The tin plate printer's double-sheet structure uses an imported sensor digital control.
8. With a spraying treatment, the surfaces of the printing roller and the rubber roller have enhanced corrosion resistance. The embossing roller's surface is also specially treated to have a strengthened hardness rate, and better corrosion resistance.
9. Each color cell of our printing machine has a synchronous servo motor, which allows each to operate independently.
10. The roller clutch and the ascending unloading platform are both photo electrically controlled.
11. Our printing machine's speed is adjustable, as are the related safety devices'. It can achieve a combination of man-machine interfaces and PLC control.
12. The clutches on the printing roller, inking rubber roller, and damping roller can be used separately, or under program control.
13. A belt conveyor avoids scratching on the back of the metal sheet by working together with internal and external pushers.
14. This can making machinery displays data directly on the screen, and allows the operator to take a direct reading on the gap adjustment of the embossing roller and rubber roller.
15. Our printing machine uses a high order meshing cam structure and provides a brand new lubrication method.
Technical Parameters
| | |
| --- | --- |
| Max. Sheet Size | 1,145'950mm |
| Min. Sheet Size | 712'510mm |
| Range of Sheet Thickness | 0.15-0.4mm |
| Max. Printing Area | 1,135'945mm |
| Printing Plate Size | 1,160'1,040'0.3mm |
| Rubber Cloth Size | 1,175'1,120'1.9mm |
| Gripper Edge | 6mm |
| Max. Speed | 5,000 sheets/ hour |
| Conveyor Line Height | 916mm |
| Max. Amount of Accumulation | 2.0 t |
| Main Motor Power | 15kw+15kw |
| Air Pump Displacement | 140m3/h |
| Dimension (L'W'H) | 11,300'2,800'2,460mm |