Internal Spray Coating Machine
PT02 Aluminum Can Coating Machine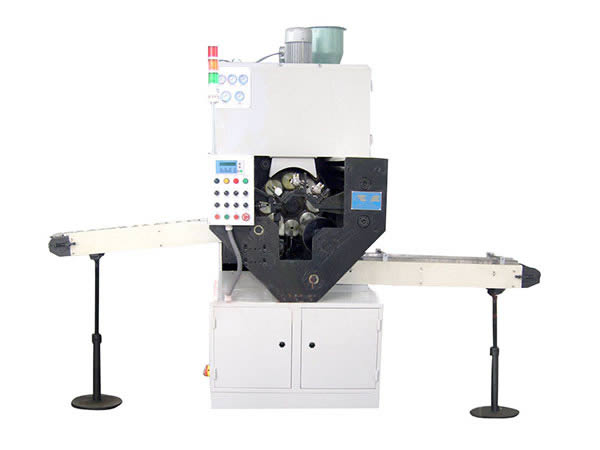 Our aluminum can internal coating machine is specially designed to meet hygiene requirements and an acid/base corrosion resistance. It can generate a layer of coating material to line the inner wall of the aluminum can to effectively isolate the aluminum from the contents of the can.
We have adopted the imported PLC overall control on this metal can making equipment in order to ensure precise control of each operating action. The Ferguson indexing mechanism on our aluminum can internal coating machine ensures a smooth and precise indexing, and the air pressure of each spray station is accurately controlled by an independent barometer.
This machine features a one-time blowing process and a two- time spraying process that effectively ensure the spraying process achieves the optimal effect, and the reciprocating motion on our spray equipment has a crank mechanism to guarantee a smooth and steady motion without a dead center. The improved inlet and outlet also allows reliable conveying, easy disassembly and convenient transport.
Our aluminum can internal coating machine's main motor is imported from Taiwan, and the frequency inverter has a reliable and convenient speed regulation process. Our newly developed spray gun also features excellent performance.
Features
1. There is PLC and frequency control.
2. The spraying process is controlled by the spray gun's electronic pulse.
3. By spraying 3 times, the coating is more uniform without any blind sides.
4. The high - power dust collection motor removes the exhaust and creates a safe and healthy environment.
5. Our spray gun has high quality.
6. Our inner spray coating machine will not spray when no cans are available, and will automatically stop when it detects a defective can.
Technical Parameters
| | |
| --- | --- |
| Applicable Diameter of Aluminum Can | φ13.5mm-φ38mm |
| Applicable Length of Aluminum Can | ≤200mm |
| Production Rate | ≤60 cans /minute |
| Air Pressure | ≥5.5kg/cm² |
| Times of Spraying | 2 × Three spray guns |
| Power | 5.6Kw |
| Weight | 2,200Kg |
| Dimension (L×W×H) | 3,000×1,600×2,150mm( Length includes conveyer belt) |