Metal Can Welder
QM-350 Automatic Type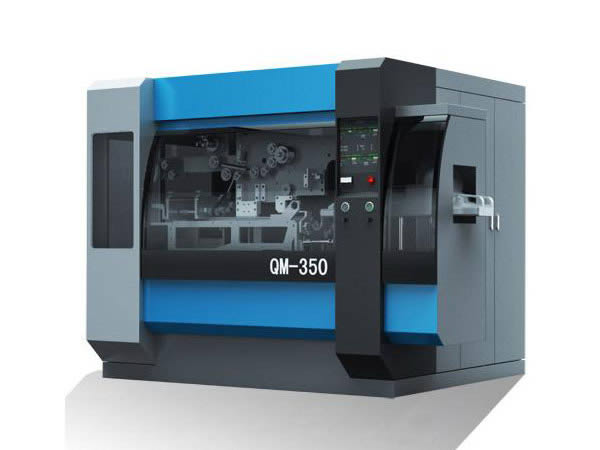 Jorson provides a variety of metal welders for bending and welding the can body. Our newly developed QM-350 automatic metal can welder is a high speed, intelligent, and digitally controlled resistance welding machine.
Advantages
1. Our metal can welder features digital static inverter technology, which achieves the welding current's sinusoidal current waveform output.
2. This metal can making machinery is equipped with a Device Net fieldbus control system, making the machinery reliable, high speed and providing convenient data control.
3. Our welder has an advanced programmable terminal and can achieve comprehensive monitoring on the device and dynamic screen display. With an expandable Ethernet communication system, this metal welder can have uninterrupted remote online control.
4. Our welding machine laterally delivers the metal can in a two finger form, improving the stability of the high speed delivery. With an advanced overall performance and stable, reliable operations, this machine is ideal for high speed can making equipment. It can also adapt to DR iron welding.
Technical Parameters
Type
QM-350
QM-350-G
QH-350
Welding speed
15-45m/min
27-55m/min
Production Rate
350 cans/min
180 cans/min
Distance of Welding Points
0.5-0.9mm
Overlap
0.4mm
Sheet Thickness
0.16-0.3mm
Inner Diameter of Can Body
Φ52- Φ99mm
Φ65- Φ99mm
Height of Can Body
60-200mm
60-320mm
Can Materials
Tinplate, Ni plate
Tin Coating
Tin:#5 - #100
Hardness
T2.5- DR8
Diameter of Copper Wire
Φ1.38mm, Φ1.5mm
Input Power
Three phase
Voltage: 380V Frequency: 50Hz
Total Power: 60kVA
Total Power: 65kVA
Welding Frequency
200 -500Hz
Cooling Water
392 - 490kPa, 12-18℃40L/min
Compressed Air
490kPa,800L/min
Dimension
2980×2370×2100 mm