Duplex Slitter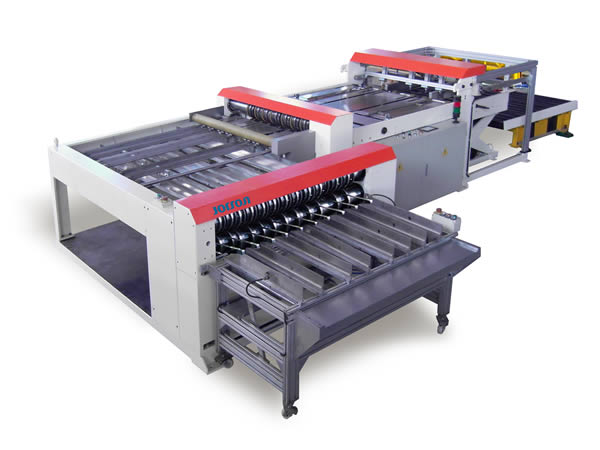 The duplex slitter is one of the most important pieces of equipment in a 3-piece can production line. The slitting machine is used to cut the tinplate into can body blanks in the correct size. Our duplex slitter is high quality and an optimal solution for your metal packaging factory.
Our duplex shearer is comprised of two parts: the ST-B2B and the STB23L and features a firm structure and great durability. The auto-feeder will automatically feed individual tinplate vertically and horizontally to the duplex slitter with a circular cutter. The tinplate is then cut into can body blank with required size.
Jorson's duplex splitter is specifically designed for canned food factories and empty can manufacturing plants. It is also suitable for slitting sheet metal into similar sizes for other industries, and can meet the demanding requirements of a high-speed resistance welding machine.
Advantages:
1. Our duplex slitter takes the tinplate with a vacuum, and uses a gear motor to automatically control the height of the tin plate.
2. The wheel cutter's rotation is stable and has a sleep operation, allowing the can body blanks to be uniform in size.
3. The single adjuster ensures the right angle both vertically and horizontally.
4. Our duplex slitter is simply designed and is easy to maintain or replace.
5. The oil pressure wheel cutter holder and the tungsten steel blade can be installed, but are not required.
Technical Parameters
| | | | |
| --- | --- | --- | --- |
| Machine type | ST-B23L | Machine type | ST-B2B |
| Max. Size of Tinplate | 45"×45" | Cutting speed | 600mm /s |
| Min. Size of Tinplate | 18"×22" | Recommended Size of Tinplate | 500×170 – 1,140 ×1,140 mm |
| Efficiency | 15/34 sheets | Max. Thickness of Tinplate | 0.4mm |
| Required Horse Power | 3 HP&1 HP | Required Horse Power | 3 HP |
| Floor Space & Overall Height | 2,956×1,743×1,585mm | Floor Space & Overall Height | 4,380×3,360×1,130mm |
| Net weight (approx.) | 1,900 Kg | Net weight (approx.) | 2,500 Kg |