Advantage
As a metal packing supplier with 19 product patents and high-performance can making machinery exported all over the world, Jorson has developed a reputation for providing excellent services and products. Listed below are advantages our company has developed and offered our customers.
1. World Wide Customers
With highly qualified technicians and over 20 years of market experience, our company has provided entire factory layouts and can production lines to customers all over the world.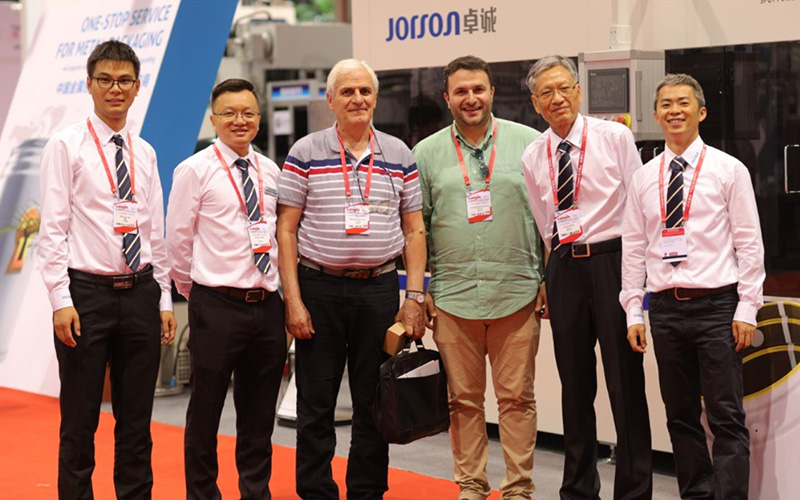 2. Efficient and Professional Service Team
We currently employ a highly qualified service team numbering in the double digits, all of whom are proficient in English. They can communicate with you in fluent English while still providing accurate consulting services. The service team can also show prospective customers around the factory in China, and provide you with easy procurement services in accordance with your needs.
3. Complete Product Range
We are capable of researching and producing our own can manufacturing equipment lines. We have partnered with a number of Chinese equipment suppliers to provide our customers with a complete range of can-making equipment, including 3-piece can production lines, 2-piece can production lines, monobloc can production lines, can end productions lines, fancy can making machines and more. Our customers also frequently request our custom tin-plate packaging solutions.





4. First Rate Service
a. Pre-sales service
We provide our customers with the best can making equipment solutions for their needs, as well as entire factory layouts.
We introduce our customers to our long-term partners in the can-making equipment manufacturing industry.
b. In-sales service
Production and quality control is strictly supervised, and we provide customer feedback on a regular basis.
Rigorous testing is performed on all of our equipment, along with performing quality checks upon commissioning and acceptance before the can-making equipment is shipped.
c. After-sales service
Our customers are provided with professional installation and commissioning on all can-making equipment, and we will train your staff on correct and safe operation of this equipment.
We provide fast and reliable packaging and contract manufacturing. We have a specialized team to offer technical support, supply you with spare parts, and efficient solutions based on accurate and effective communication between us and our customers.