Drying Oven for Printed Tin Plates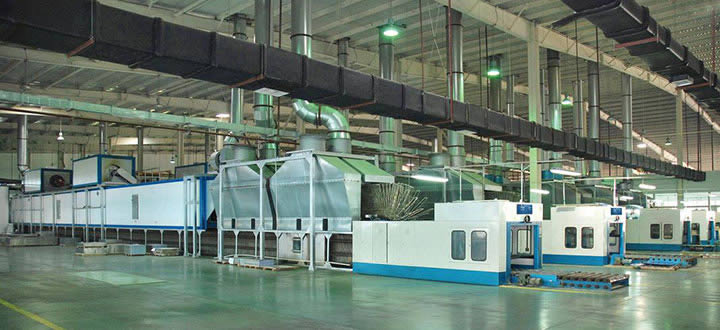 Model: SJF
Our drying ovens specialize in printing, coating, drying cooling, unloading and collecting sheet metal for can manufacturing.
Our tin plate drying oven can be heated using city gas, natural gas, liquid gas, kerosene, light diesel oil with a viscosity of 1.5 Engler, coal, and electricity. Our printed tin plate drying ovens are applicable to a variety of sheet metals with different specifications and different uses.
Advantages
The front and back transmissions of our can making equipment are enclosed. The protection device for unloading, the conveyor chain tensioner, the calibration device for unloading, and the calibration device for the stacker are all pneumatically controlled.
Synchronization is achieved using frequency control. There are suction and magnetic cushion devices in the loading section of our tin plate production line. The heating of the fuel includes both direct and indirect combustion.
Technical Parameters
Max. Drying Speed
6,000 sheets/ hour
Max. Drying Temperature
230℃
Length of Oven
27 m
Total length of Oven
42.95 m
Drying Time in Drying Zone with Constant Temperature
4,800 sheets/ hour:10 minutes
5,100 sheets/ hour: 9.4 minutes
5,400 sheets/ hour: 8.9 minutes
6,000 sheets/ hour: 8 minutes
Max. Sheet Size
1,150×965mm
Min. Sheet Size
710×508mm
Sheet Thickness
0.15-0.4mm
Fuel
Gas LPG
Cooling Zone
5.48 m
Quantity of Heating Chamber
2
Air Intake Volume in Cooling Zone
50,000 m 3/hr
Air Outlet Volume in Cooling Zone
55,000 m 3/hr
Air Supply
≤4500 m3/hr
Air Volume of Front Exhaust
Approx.10,000 m3 /hr
Air Volume of Rear Exhaust
Approx.4,000 m3 /hr
Total Power Consumption
Approx. 45.45kw